Lost Ark: The complete guide to legion commander gear progression
Lost ark gear traits and content segmentation guide have been described earlier. After South Vern's update, you will gain access to each of the individual Legion Commanders. In this article, let's take a look at how to progress legion commander gear.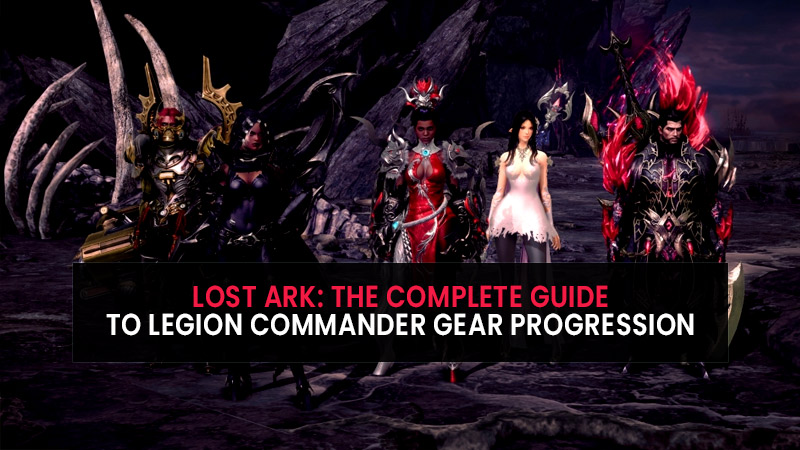 Valtan, Vykas, Kakul-Saydon, Brelshaza, Akkan, and Thaemine. Each of these raids provides something different that contributes to gear progression.
| | |
| --- | --- |
| Content | Item Level / Median Enhancement |
| Valtan Normal Mode | 1415 (+15) |
| Vykas Normal Mode | 1430 (+16) |
| Valtan Hard Mode | 1445 (+17) |
| Vykas Hard Mode | 1460 (+18) |
| Kakul-Saydon Normal Mode | 1475 (+19) |
| Brelshaza Normal Mode P1/2 | 1490 (+20) |
| Brelshaza Normal Mode P3/4 | 1500 |
| Brelshaza Normal Mode P5/6 | 1520 |
| Brelshaza Hard Mode P1/2 | 1540 |
| Brelshaza Hard Mode P3/4 | 1550 |
| Brelshaza Hard Mode P5/6 | 1560 |
These raids are typically a couple of months apart from one another—Valtan and Vykas release with both Normal and Hard mode on the same day. Kakul-Saydon only has a Normal mode, and Brelshaza's Normal and Hard mode are a few months apart.
This time between raids is why players must now go above +15, whereas previously, they could stop at +15 to succeed to the next step. It's also why the enhancement gain formula has changed, and the amount of stat you gain after each enhancement beyond +15 is so large. Since the Legendary and Relic sets are both mid-T3, your improvements from your Argos equipment will transfer to them 1:1 without any loss.
For your first Relic set, you will need materials from both Valtan and Biackiss to complete it.
Regular Brelshaza awards materials used to craft the Upper T3 Relic Set, which boasts higher stats but has the same set bonuses as the Mid T3 Relic Set counterpart. They also share set bonuses. Therefore you can activate the set with pieces from the Mid and the Upper set.
Hard Brelshaza awards an Ancient material used to craft the Upper T3 Ancient set. This set has similar stats to the Relic variant but allows you to upgrade beyond +20 to +25.
Upon clearing Legion Raid either on Normal or Hard mode, you will always drop materials towards crafting set items. The material in Normal mode is used to create legendary sets, while the material in Hard mode is used to create Relic sets. In Normal mode, you will drop a few of the Hard mode materials, but you must reach 1445 to be allowed to craft them.
You can obtain additional materials from spending 250 Blue Crystals to open the chest at the end. There is also always material in the auction for bid among players. Starting from Brelshaza, there are 4 Legion Commanders, but you may only select 3 to challenge each week.
| | |
| --- | --- |
| Item Slot | Material Required |
| Weapon | 25 |
| Helmet | 10 |
| Shoulders | 10 |
| Top | 10 |
| Bottom | 10 |
| Gloves | 10 |
When you dismantle any Legendary or Relic item in the Legion Commander sets, you are refunded 100% of the raid material you used to craft it, not including Chaos Stones. This allows you to switch your settings to a different one if you dislike your current one (the approximate cost to switch a full set is around 7,000 Gold from production costs and Chaos Stone requirements). Furthermore, when it comes to Relic items only, when you succeed from one Relic item to another, the quality will transfer if it's better. The old item will not be destroyed but instead reduced to 0 quality (allowing you to dismantle it to get back the materials).
Upper T3 equipment from Abrelshud can be swapped to a different set without dismantling using an NPC in the town.
Below, please reference which raid material is needed to create each set, bearing in mind that weapons require more craft than armor.
LEGENDARY SETS

Set

Weapon

Helmet

Top

Bottoms

Gloves

Shoulders

Beast Power

---

55x Valtan Material

20x Vykas Material

Desire Whisper

---

40x Valtan Material

35x Vykas Material
RELIC SETS

Set

Weapon

Helmet

Top

Bottoms

Gloves

Shoulders

Dominant Fang

---

55x Valtan Material

20x Vykas Material

Betrayal Instinct

---

40x Valtan Material

35x Vykas Material

Swamp of Longing

---

35x Valtan Material

40x Vykas Material

Grasp of Destruction

---

55x Valtan Material

20x Vykas Material

Fascination Instinct

---

20x Valtan Material

55x Vykas Material

Death

---

35x Valtan Material

40x Vykas Material

Nightmare Flower

---

45x Valtan Material

30x Vykas Material

Hallucination Scream

---

30x Valtan Material

45x Vykas Material
It would help if you planned around receiving ten materials per week per boss by buying the box at the end. , You will lose Lost Ark Gold from Argos after reaching 1475 and after Kakul-Saydon is released (you will not lose the Gold before Kouku is released, even if you exceed 1475). Normal mode awards 3,300 Gold, and Hard mode awards 4,500 Gold for any fully completed Legion Commander raid.
Normal mode and Hard mode share lockouts. If you complete the raid in Normal mode, you cannot enter Hard mode, and vice versa. Kakul-Saydon and Brelshaza have exceptions, as their Rehearsal and Deja Vu difficulties have separate lockouts from their Normal mode, and have different rewards.
Unlike previous sets, these sets have set bonuses of 2, 4, and 6 items. Your region may not have Vykas available immediately, so you can consider mix-and-matching sets from here or with previous Argos items to come up with a temporary item build until you can later complete 6-set pieces.